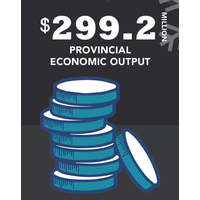 Keremeos, BC (July 2, 2019) – MNP LLP ("MNP") was engaged by the BC Snowmobile Federation ("BCSF") to conduct a study to quantify the contributions that snowmobiling makes to the BC economy. Snowmobiling impacts BC's economy through the expenditures of snowmobilers, and the operations of snowmobile dealers, snowmobile rental and guiding operators, and snowmobile clubs.
The study released today by the BCSF show that this past winter snowmobiling generated 299.2 million dollars and contributed 21.8 million dollars in revenue to the various levels of Government. The study also demonstrated that during the winter months 4,272 jobs are supported by the sport of snowmobiling with the largest benefit being felt in the Thompson Okanagan Region.
BC's abundant snowfall and diverse, often mountainous terrain also make it an attractive tourist destination for snowmobilers from within BC, Washington State, Alberta, and abroad. When snowmobilers take their snowmobiles on vacation the economic benefit to BC is 114.4 million in direct spending. Of course, the majority of this economic benefit was felt in small rural areas, during the winter months, when economic stimulation is needed to keep our BC communities thriving.
To read the Full Report
Snowmobile Clubs in BC are considered to be the largest operator of trails in BC and are currently managing 187 recreation sites on behalf of the Province. Snowmobile trails in BC are built and maintained by club volunteers and funded through a "user pay" fee structure. BC Snowmobile Clubs are non-profit societies that maintain over 18,000 km of trail and contribute over 16,000 hours of volunteer time annually to maintain our trails. Snowmobile trails are open for everyone to enjoy and snowmobile clubs are working to create a lasting legacy for future generations.
The BC Snowmobile Federation is a non-profit society created in 1965 to establish, maintain and protect quality opportunities for organized snowmobiling in BC. The BCSF collectively represents 59 snowmobile clubs and 44,000 riders in the Province of BC. On the ground, our member clubs are non-profit societies maintained by caring volunteers who promote safety, stewardship, and responsible backcountry snowmobile recreation.
---